Exotic Vacations
Are you one to get off the beaten path? A lover of the exotic, the different, the things bucket lists are made of? Exotic vacations from Traveloni will provide just that and so much more. Rather you want to travel to the other side of the planet or find an exotic locale closer by, our agents know the destinations your adventurous mind will gravitate to. Let us create a custom exotic vacation for you so you can spend your time focusing on enjoying the adventure of a lifetime!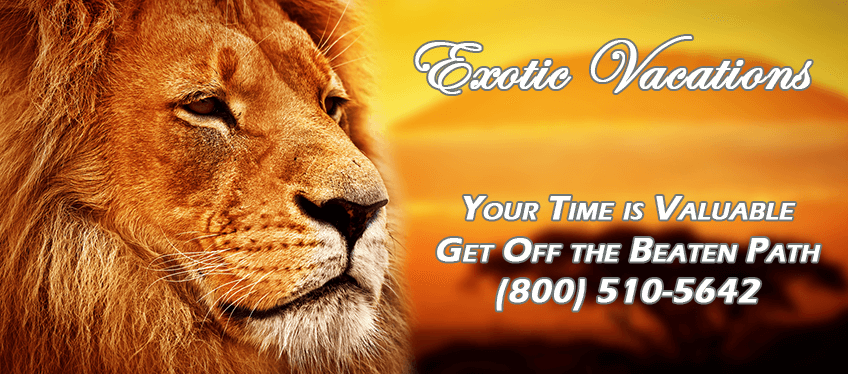 Is an Exotic Vacation Right for Me?
Bora Bora, An Exotic Adventure

Bora Bora, which is an island located in Tahiti, is arguably one of the most picturesque destinations on Earth as it offers water so blue, you won't believe your eyes. Better yet a variety of hotels and resorts such as the Hilton and the Four Seasons offer over water bungalows, which will allow you to dive straight from your room into the sea. Tahiti is also a dream location to visit as it's a French speaking territory, so you'll get plenty of opportunities to practice your high school French and to savor delicious French cuisine.

So if you're looking for the perfect exotic destination for your next overseas vacation, simply choose the location listed above that appealed to you the most and start researching. Alternatively you may be keen to fly to another destination such as Brazil, Cuba, Colombia or the Maldives.
Phuket

Thailand is known as the land of 1000 smiles as its people are incredibly gracious and hospitable. If you want to experience Thailand's legendary hospitality for yourself, head straight to Phuket where you'll have the opportunity to sample traditional Thai cuisine, can explore Thailand's inexpensive markets, ride in a tuk took, visit an elephant sanctuary and swim in clear, turquoise water. Best of all Thailand is a cheap destination to visit, so you'll be able to stay at a four or five resort, without spending a small fortune.
Punta Cana Adventure

If the sound of spending lazy days on the beach and adventurous days exploring lush rainforests by four by four, zip-line or horseback, you may want to book a plane ticket to Punta Cana in the Dominican Republic. However, just because you'll be travelling off the beaten track doesn't mean you'll have to rough it as Punta Cana offers several world class beach side resorts. All of which offer spacious outdoor pools, which overlook the ocean.
Vacation Planning
If you can't call us now or if our office is currently closed, please schedule a personal free one on one consultation below with one of our destination specialists when it is convenient for you and let us take all the stress out of planning your vacation. Thank you for considering Traveloni for your Exotic Vacations!
Lynn Farrell, President
Recent News about Exotic Vacations