The Serengeti + Gorillas of Rwanda
Sale Ends Tuesday December 31st, 2019
The Serengeti + Gorillas of Rwanda
The Great Migration + Gorillas in the Wild
Hosted by Scott Avera, A+R Vice President, for just 16 guests
8 Days | Sep 3-10, 2020 | $12,499 $11,999
Save $1,000 per couple | $500 solo Just pay in full at booking by Dec 31, 2019
Two of the World's Greatest Wildlife Thrills
Watch as the vast Great Migration herds cluster on riverbanks, waiting to ford… From our luxury safari lodge, you'll have up-front access to the unfolding drama! In the dense forests of the Virunga Mountains, our encounter with critically endangered Mountain Gorillas promises one of the most poignant and life-changing animal experiences you will ever have.
Our Luxury Safari Camp and Lodge
In a pristine sector of the Northern Serengeti, close to the Mara River in the main corridor of the Great Migration, the luxury Lemala Kuria Hills Lodge is ideally situated for thrilling, uncrowded viewing of the Migration River Crossings. Set on a ridge near Rwanda's Volcanoes National Park, the Virunga Lodge offers just 10 stone cottages with wonderful lake and mountain views.
An All-Inclusive Safari
Fully hosted by A+R Vice President Scott Avera and his wife Diane, our once-in-a-lifetime adventure features morning and afternoon game drives with our expert safari guides, a guided Gorilla Trek including Trekking Permit, deluxe and luxury accommodations, all 20 meals with wine every evening, on-tour transportation including all 3 internal flights, and gratuities.
Extend Your Journey…
Unwind on Zanzibar
After the thrill of safari, the idyllic Spice Island of Zanzibar is the perfect place to unwind before the journey home. We include all transportation and flights, 3 nights in a private oceanview villa at our luxury resort The Residence, and sightseeing.
Our Distinctive A+R Style
+ Watch as the Great Migration herds cluster on the banks of the Mara River, waiting to ford… From our luxury Lemala Kuria Hills lodge, you'll have up-front access to the unfolding drama! + Get closer to the Big Five with our expert safari guides in special 6-passenger open-top jeeps – it's a front-row seat for every thrilling encounter! + Silent observation and engagement with a Gorilla family in their natural jungle habitat will be one of the most poignant and life-changing animal encounters you will ever have. + Discover the beautiful twin lakes of Burera and Ruhondo, cradled by the scenic Virunga Hills with forested shores that provide prime habitat for a rich variety of birdlife.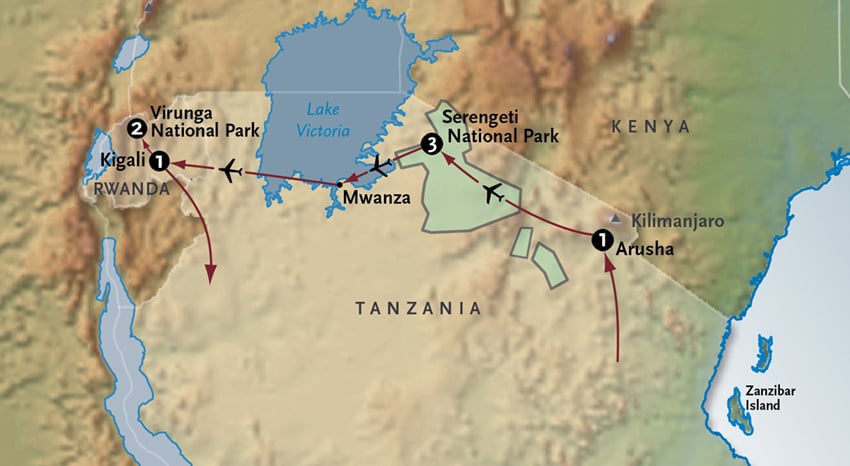 Book By:
 Tuesday December 31st, 2019
Travel:
 September 3 – September 10, 2019
Minimum Nights:
 7
Offer ID:
AR09052019
Travel Planning
Our travel specialists have stayed at or visited most of the vacations we recommend (unlike most online agencies). In order to best match your requirements with the array of resorts, packages and options available, we believe it is best for us to speak with you personally by phone about your vacation.
If you can't call us now or our office is currently closed, please schedule a personal free one on one consultation below with one of our travel specialists when it is convenient for you and let us take all the stress out of planning your vacation. Thank you for considering Traveloni!
Lynn Farrell President
Discounted rate is per person, double occupancy and includes $1,000 per couple ($500 solo) savings when travelers pay in full at time of booking before Dec 31, 2019.
Deals are subject to change and or may expire at anytime, without notice. Prices displayed may or may not include air, transfers, and taxes. Prices shown may be from certain departure airports, for specific travel durations, or for travel on specific dates. Blackout dates may apply. Call your Traveloni representative for more info at (800)510-5642.