Why Locals Love Cabo and you Should, Too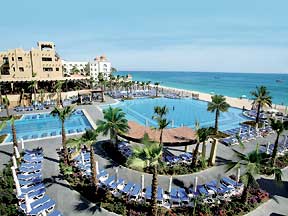 Beauty, comfort and luxury are some of the top draws that bring visitors to Los Cabos, Mexico. This destination is home to some of the world's most exquisite fine dinning, trendy nightclubs, high-end resorts and spas, as well as breathtaking desert scenery. Even the locals of Los Cabos love where they live, and welcome visitors to share in the exciting culture and natural splendor. Jose Valdivia, a local of Los Cabos who works at an organic restaurant, described why Cabo is a great place for friendship, food, and fun filled activities:
"I love Cabo because it's a point of connections," Valdivia explained, "It's a place where people respect each other."
Valdivia went on to tell how, just as Cabo has a reputation for mingling and networking, it is even more defined by its culinary prowess:
"Find organic produce with the highest quality and add that to a mix of gastronomic cultures.  This gives the food of Los Cabos a truly unique personality. Whatever direction you go in Los Cabos, the destination's always highlighted by delicious cuisine."
Enjoy fine dining at one of Los Cabos's many world-class restaurants. Located at the southernmost tip of the Baja California peninsula, Cabo is surrounded by water. This means ample seafood fished from the Pacific and Gulf of California, then prepared fresh by skilled chefs for your satisfaction. Pair your fresh seafood with a glass of white wine and a view of the ocean. Follow your meal with a walk on the beach while listening to waves crashing on the sand.
For the nocturnal crowd seeking cocktail infused adventures, Cabo offers some of the hottest nightlife in all of Mexico. Home to numerous upscale dance clubs, Cabo is the ideal place to put on your party clothes and take on the night. Join the ranks of Hollywood celebrities who come from Beverly Hills and New York City to relish in Cabo's swanky lounges and hopping club scenes. Feel the adrenaline as you dance the night away in Los Cabos! Yet, Valdivia added that there's more to Los Cabo than parties and romance:
"You can come with your family and enjoy a world class hotel," commented Valdivia, "And stumble upon this great and healthy community."
Cabo has fantastic resorts where you can relax and recover in absolute comfort. Stay at the Riu Palace Cabo San Lucas, which boasts various levels of sparkling swimming pools. Artistically designed, these pools are beautifully ornamented with fountains, gardens, and swaying palm trees. The Riu Santa Fe features an infinity pool and a soft white sand beach that leads to the ocean. Many of Los Cabo's resorts offer all-inclusive packages and airport transportation, which make visiting this destination a breeze.
Cabo has a desert climate, meaning the weather is generally dry and hot, even at night. This part of the world is spectacularly scenic. Cabo is a place where you can gaze upon the vistas of turquoise blue oceans and breathtaking mountains within a single panorama. Many visitors to Los Cabos take in their surroundings as they ride camels across beaches and through desert sands.
"There are many things to do down here," acknowledged Valdivia, "From enjoying the unique beaches in contrast with the desert, to hiking in the mountains, to jumping into waterfalls or maybe hot springs."
Los Cabos is the ultimate destination for those seeking to vacation in an upscale atmosphere where they can relish in fine dining, nightlife, and high-end accommodation. Locals like Valdivia are proud of both the culinary and natural beauty of Los Cabos. They are eager to demonstrate exceptional kindness, and direct visitors to parties and other fun activities.