Trip Report: Greece – Part 4 – Mykonos
Sponsored by:
Mary's Greek adventure continues with Mykonos.
Mykonos is a well known destination in the Greek islands and is one of the 'must visit' places in Greece. It is one of the most visited islands in the Aegean Sea. High season for Mykonos is July and August, so if you want the crowds, go then.  If you want a bit less tourists and cooler weather try mid-May through June or after high season of September through mid-October.
Arrange hotel pickup: If you're arriving at the port, be sure to arrange a pick up from your hotel prior, it can be impossible to get a taxi.

Rent a Scooter: No matter where you stay on the island, a scooter or ATV rental is your best bet for getting to some of those off the beaten path beaches.

Explore By Kayak:  Spend a day exploring Mykonos on a kayaking tour. An experienced tour guide will be able to lead you to some of the island's most hidden gems including coves, bays, and islets. Most tours are suitable for beginners too.

Throw A Few Sweaters In Your Bag: Mykonos has great weather almost everyday, but there are days when the wind is so strong it almost blows you over. And if you have long hair, don't forget your hairband.

Choose Your Visit Wisely: Mykonos' busy season is June through September when the kids are out of school and the weather is at its hottest. All of the prices on the island are higher during these months; from flights, to accommodations, and even restaurants. Visit Mykonos out of high season to avoid the heat and the higher cost.

Check out a Club: Paradise Club – Paradise Club is open every other night with DJ's during the summer. There is a pool in the center of the club but at night  swimming isn't allowed. Tickets can be bought on the same day from ticket sellers walking the beach.
Our Favorite Spots in Mykonos
Exhibits of ancient pottery & sculpture
Small museum showcasing urns, funerary art & figurines from prehistory to the Hellenistic period.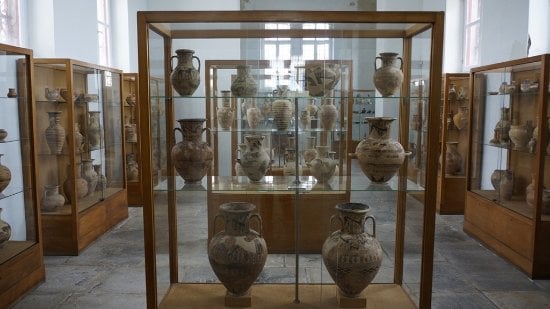 Maritime museum and museum
The Aegean Maritime Museum is a maritime museum in Mykonos, Greece. 
Whitewashed 17th-century church complex Completed in the 17th century, this whitewashed church complex is made up of 5 joined churches. -Google
Famous Shopping Street
Here you can find everything, good restaurants, nightclubs, gift shops, street food and many other options for sweets, drink, coffee and shopping.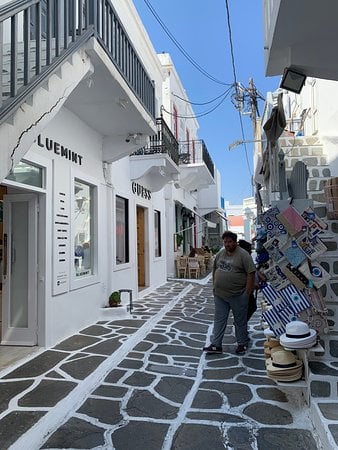 Museum in a classic local home Museum featuring a traditional, historic Mykonian home with furnishings & objects. 
Model ships, furniture, art & more
Established in 1958, this museum houses 19th-century furniture, sculptures, model ships & more. 
Picturesque beach with turquoise waters
A wide sandy beach & tranquil waters are the draws to this scenic locale in rustic surrounds. 
Where we Stayed in Mykonos
Myconian Ambassador Hotel
The Ambassador combines the art de vivre of a Relais & Chateaux with the privilege of one family's island roots, capturing not just the inimitable lifestyle luxury that brings the world to Mykonos, but the very essence of our island. For those who can read between the lines, we are not just a hotel…
The tranquility of being away from the island's party pulse changes in a moment with a short stroll across to Psarou, with its beau monde and superyachts at anchor, or to Paranga's lively small tavernas frequented by the locals. Our private launch can take you to the mysterious ruins of ancient Delos or Rhenia's hidden coves, and even the vibrant Chora, with its whitewashed maze of boutiques and bars, is only minutes away by car.
Guests can enjoy an array of amenities including use of an onsite hair salon, gift shop, and the Thalasso-Spa Center. The Thalassotherapy Spa features four sea water Thalasso pools, essential aromatic oils, underwater music, Hammam, and sauna. In addition to the single treatments, a variety of 1-6 day packages are offered. Specialists are available for consultations and health menus are available.
Luxury Spaces We Also Visted in Mykonos
Traveloni is Here to Help
Call (800) 510-5642 and let Traveloni plan your next Greek Escape.
Trust in our travel professionals; let us handle the travel details so you can relax and enjoy!