Trip Report: Greece – Part 2 – Crete
Sponsored by:
To continue with our Greece series; next Mary went to Crete.
Crete is located in the Mediterranean Sea, between the Sea of Crete and the Libyan Sea. It is the largest of the Greek islands at 167 miles long and 37 miles wide. Crete is a favorite among all of the beautiful Greek islands. Approximately 650,000 people call this island home. Crete is of course known for its beaches, but it also has a contrasting landscape. From coastal plains to mountains to busy cities and peaceful hillside villages, there is something for everyone here. You can also see the remains of the Roman and Turkish aqueducts and architecture from different invasions of the island in the past.
Best time to go – May to October. At this time weather is the most suitable for water activities

Eat where the locals eat – this is always the case whereever you travel. If you see a taverna packed with locals, this is where you need to stop and fill your stomach

Be Patient – while clocks do exist on Crete, most times are really just suggestions. Just relax and go with it, you are on island time now

Beware of mixed spellings – Sometimes it's Heraklion. Sometimes it's Iraklio. Sometimes it's Ηράκλειο. Regardless of how it's spelled or written, it's all the same place, so don't get confused when you're driving around

Tap water is fine to drink – but some people do not like the taste

Don't overlook the small towns – visiting the smaller cities, towns, and villages is not only cheaper, but it also gives you a feel for what life on Crete is really like outside of tourism
Our Favorite Spots in Crete
Archaeological Site in Knossos
Knossos, is the main archaeological site at Heraklion for the Bronze Age. It is a modern port city on the north central coast of Crete.
Archaeological site in Around Matala
Gortyna was a town of ancient Crete which appears in the Homeric poems. It was first inhabited at the end of the Neolithic period. The city still exists today with a history dating back 6000 years.
Museum in Iraklio 
Museum with artifacts from all eras of Cretan history/prehistory, with frescoes, figurines & tombs. -Google
Archaeological Site in Around Matala
Phaestos was the second-most-important Minoan palace-city after Knossos and enjoys an awe-inspiring setting with panoramic views of the Messara Plain and Mt Psiloritis. It was build on top of a destroyed palace around 1700 BC.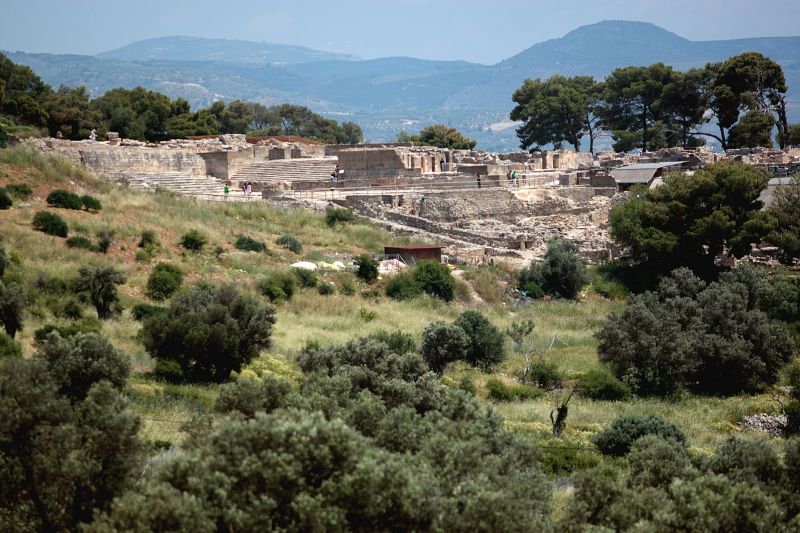 Archaeological site in Zakros & Kato Zakros
Zakros was the smallest of the four Minoan palatial complexes which was next to the harbor and likely involved in sea trade with the Middle East. Zakros was centered on a courtyard surrounded by royal apartments, shrines, ceremonial halls, storerooms and workshops. The ruins are pretty sparse, but it is a remote location, so you can enjoy just walking around without too many tourists.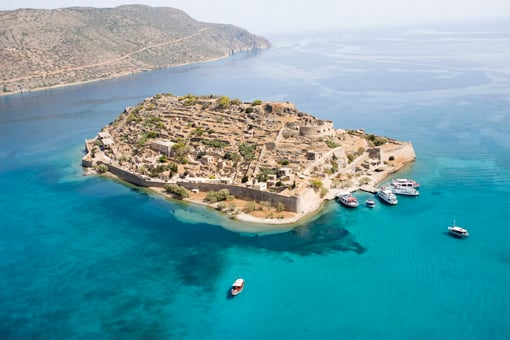 Uninhabited islet with a Venetian fort
Tiny, uninhabited island with a 16th-century Venetian fortress & the ruins of a former leper colony. -Google
Historic monastery with a church
Architecturally notable & historic Eastern Orthodox monastery & 16th-century church with services. -Google
Beach in Hania Province. Lagoon and monastery
Elafonisi is an island located close to the southwestern corner of the Mediterranean island of Crete, of which it is administratively a part, in the regional unit of Chania. -Google
Ruins in Hania Province
The ancient city of Aptera now lies in ruins spread over two hills that look over Souda Bay. It was one of the most important city states in western Crete and was founded in the 7th century BC and remained inhabited until an earthquake destroyed it in the 7th century AD. You will need a vehicle to visit this remote place.
Museum in Hania
Housing artifacts from the Neolithic to the Roman times, this resorted 16th century Venetian Church of San Francisco is an interesting museum to visit. There are Roman floor mosaics, gold jewelry from the Hellenistic period, and a marble sculptured head of the Roman emperor Hadrain – just to name a few.
Blue Palace, a Luxury Collection Resort & Spa
Endless views, crystal clear waters and a host of cultural and gastronomical experiences await guests at Blue Palace, a Luxury Collection Resort and Spa. Spend a day exploring the beauty of the island with its old villages, wineries and the ancient Palace of Knossos or simply enjoy a leisurely dip in the crystal blue waters of our magnificent private beach. Sail the coast of Elounda and around the relics of Spinalonga island, a National Monument, aboard our traditional caique. Discover unique dining experiences within five restaurants and select from a variety of exquisite Mediterranean dishes, traditional Greek specialties and cuisine with an international flair. Nourish body and soul with a signature treatment or just indulge in your own private pool, while rejoicing in a landscape of breathtaking beauty. -Blue Palace
Luxury Spaces We Also Visted in Crete
Amirandes Grecotel Exclusive Resort
A sparkling exclusive resort inspired by the legendary Cretan hospitality. On a perfect location, with easy access to Crete Golf Club, Heraklion's international airport and the world-famous Knossos archaeological site. Be pampered by the grand range of spacious, quality accommodation with designers' furniture & luxurious amenities. Indulge in supreme and refined ambience, where soft colours and cool fabrics create a leisurely mood.
Step out of your private villa onto a cove of fine golden sand lapped by pristine waters and surrounded by nature. The villas feature indulgent high tech details, private gyms and state-of the-art bathrooms with colourtherapy and aromatherapy Jacuzzi bathtubs. -Amirandes Grecotel
Elounda Gulf Villas
Soaring above the shimmering Gulf of Mirabello, the award-winning Elounda Gulf Villas in Crete is an exclusive luxury retreat, seamlessly blending the unmatched services of a world-class hotel with the warm, inviting ambience of a private home. Family owned and run, this elegant boutique Villa Hotel is dedicated to offer bespoke holiday experiences in 15 exquisite Suites and 18 Pool Villas, vibrating tranquility and timeless splendor. Enriched with invigorating wellness amenities, indulgent Mediterranean flavors, and thrilling activities for everyone to enjoy, holidays at Elounda Gulf Villas capture the essence of blissful Mediterranean living. -Elounda Gulf Villas
Elounda Mare
Porto Elounda Golf & Spa Resort, the hotel's partner resort located 400 yards away, offers additional dining options including the seasonal Aglio & Olio restaurant set in an olive grove and the Odysseus right on the waterfront., as well as a private 9 hole par-3 golf course . At the spa operated by "Six Senses" guests can indulge in relaxing treatments such as Thermal Regenerative Facial or the Balinese Massage (surcharge).
This intimate resort, located in the exclusive Elounda area on the northeast coast of Crete, features fine dining and a renowned full-service spa, located within Porto Elounda Golf & Spa Resort (400 yards away and serviced by free shuttle). -Elounda Mare
Traveloni is Here to Help
Call (800) 510-5642 and let Traveloni plan your next Greek Escape.
Trust in our travel professionals; let us handle the travel details so you can relax and enjoy!