Denmark's Best Christmas Markets
Make Christmas shopping a memorable experience this year, with a trip to one of Denmark's atmospheric Christmas markets. From November onwards, Denmark explodes with magical Christmas markets. There are those at the heart of Copenhagen, the famous Tivoli Christmas market and traditional Christmas markets at castles and manor houses around Denmark. Warm yourself with a cup of mulled wine (gløgg) and take your time picking out that perfect Danish design gift or decoration to take home, with the help of this guide.
Hans Christian Andersen Christmas Market
Christmas like in the day of Hans Christian Andersen. In the day of Hans Christian Andersen Christmas was a very special time of the year and takes center stage in many of his fairy tales. In the oldest part of Odense you can experience old fashioned market atmosphere with Christmas decorations, booths, a vegetable market and lots of entertainment inspired by the fairy tale poet. This area is also where you find the Hans Christian Andersen Museum.
Højbro Plads Christmas Market
You can find this cozy Christmas market in the center of Copenhagen - perfect to visit for a weekend in the capital. Experience a good old-fashioned Christmas with Christmas trees and decorations, 80,000 sparking Christmas lights, secret pixies, reindeer and Santa's sleigh. Visit Copenhagen's charming Christmas village. Children and adults have a chance to meet the Christmas market's own Father Christmas every Tuesday to Sunday between 1 and 5 pm. Here you can have pictures taken with Father Christmas for free.
Christmas in Ribe
When Christmas time rolls around, Ribe goes into high gear by using the old, beautiful houses to set the stage for all kinds of Christmas activities - and like the good old days, it looks, smells, feels, sounds, and tastes of Christmas. Christmas in Ribe builds upon the beloved Danish children's book, "Peters jul", in verse about a middleclass family Christmas in the 1860's. The author had family in Ribe, and probably celebrated Christmas in the Cathedral town here with his brother, who made the illustrations for the first adition of the book.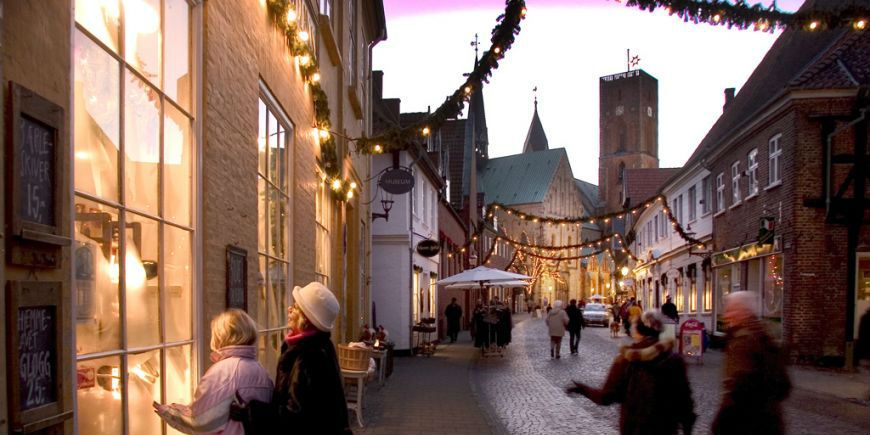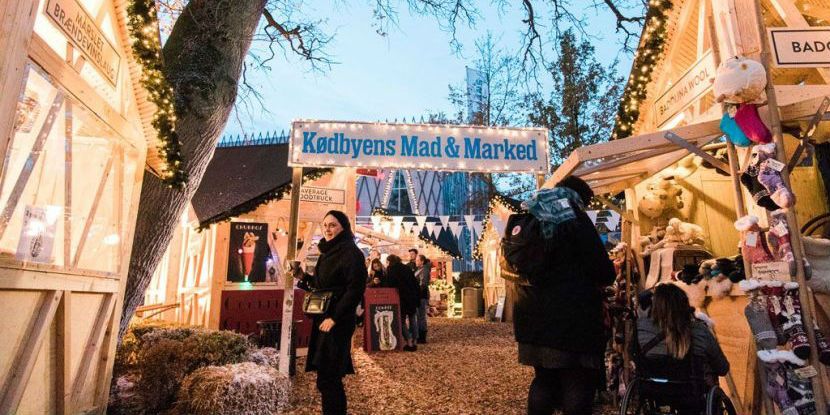 Christmas in Aarhus
Yuletide under the stars. When you wish upon a star, your dreams come true – at least when you are in Aarhus in the run up to Christmas. When Christmas is near, and the dark days provide perfect moments of cosy togetherness and intimacy, it is an ideal opportunity for taking a break away together with your loved one. We always love celebrating special moments in Aarhus.
Christmas at Egeskov Castle
There is always a special vibe when visiting a castle and a christmas market in these settings is a must to visit.  Experience the festive cheer at the fairytale setting of Egeskov Castle, where you will find a market bursting with inspiration for Christmas and selling everything from delicacies and decorations to Christmas elves.
Christmas Market at Spøttrup Castle
Explore a Christmas market at the medieval castle of Spøttrup.
Christmas in Copenhagen
Are you up for more Christmas events in the capital of Denmark? Copenhagen is a real Christmas city and oozes atmosphere during the Christmas months. Christmas in Copenhagen embodies the concept of hygge where locals and visitors enjoy themselves and some delicious treats surrounded by loved ones and in intimate, cozy settings. For instance Tivoli Gardens, the Christmas markets, and the many quality restaurants serving up traditional, Danish Christmas delicacies.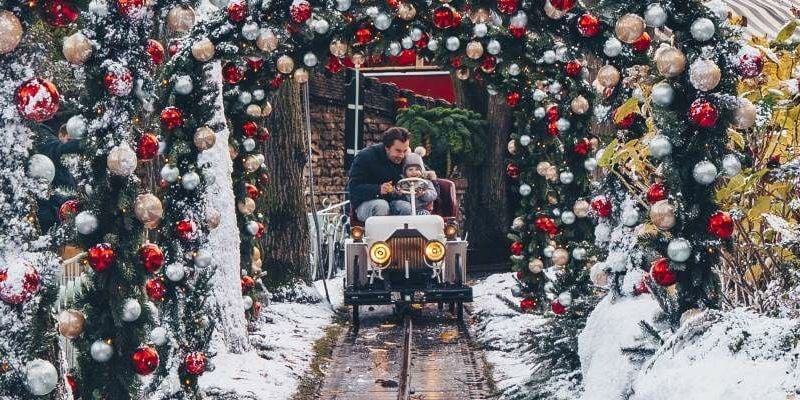 Christmas at Dragsholm Castle
Smell the gløgg, taste the æbleskiver and enjoy a cozy Christmas vibe when Dragsholm Castle invites to a true fairytale Christmas market.
Roskilde Christmas Market
The Christmas market will be full of Christmas spirit and you can make your Christmas shopping in the 20 cabins filled with pottery, knit, art, unique items, beautiful crafts, lambskin, woodworks and lots of decorations. Take a break from the Christmas rush and enjoy local goodies, hot or cold - to drink or eat. You can also have "Gløgg and æbleskiver" and drinking hot drinks and buy other delicious goodies. The Christmas Train drives through the small streets in the city - a must try for the children!
Christmas on the Island of Ærø
A glimpse of a festive Christmas tree through decorated windows, the sweet aroma of home baked fritters made the traditional Ærø way with a prune in the centre, rosy-cheeked children and adults in the cosy cobblestone streets – wrapped up in woollen hats and gloves – bearing gifts and full of Christmas cheer. Ærø has its own traditions. There are no big shopping centres to distract you from the true essence of Christmas; being together, care and consideration for each other and the Danish concept of 'hygge'. On Ærø, things are done whole-heartedly; whether it´s gathering around a hot cup of mulled wine, lighting up a Christmas tree, baking traditional Danish Christmas biscuits or cutting out angels. Everywhere from barns to doorways to garages, one can find small and cosy markets, filled with home-knitted clothes, homemade decorations and gift ideas and the towns bustle on the larger market days.
Christmas in Nyborg
We still celebrate Christmas in the ancient royal town of Nyborg. Every year, we hold a festive Christmas fair in Nyborg's authentic historical streets. The Christmas fair takes place during the first two weekends of December (30/11-2/12 and 7/12-9/12). Bathed in the glow of thousands of glittering Christmas lights, the historical town centre, booths, stores and Borgmestergård (a historical merchant's house) are enchanting sights. You can do your Christmas shopping here, and sample traditional Danish doughnuts and Christmas ale.
Christmas in Aarhus Old Town
Treat yourself to a magical Christmas atmosphere and a wonderful nostalgia trip through four hundred years of Christmas history down Den Gamle By's charming streets with horse-drawn carriages, Christmas decorations, and lit lanterns. Go exploring in the historical houses og see the origins of Danish Christmas traditions; enjoy a cup of hot chocolate, traditional Christmas food, sweets and goodies from the stalls; or buy Christmas decorations and presents in the period shops.
Traveloni is Here to Help
Call (800) 510-5642 and let Traveloni plan your next Escape.
Trust in our travel professionals; let us handle the travel details so you can relax and enjoy!